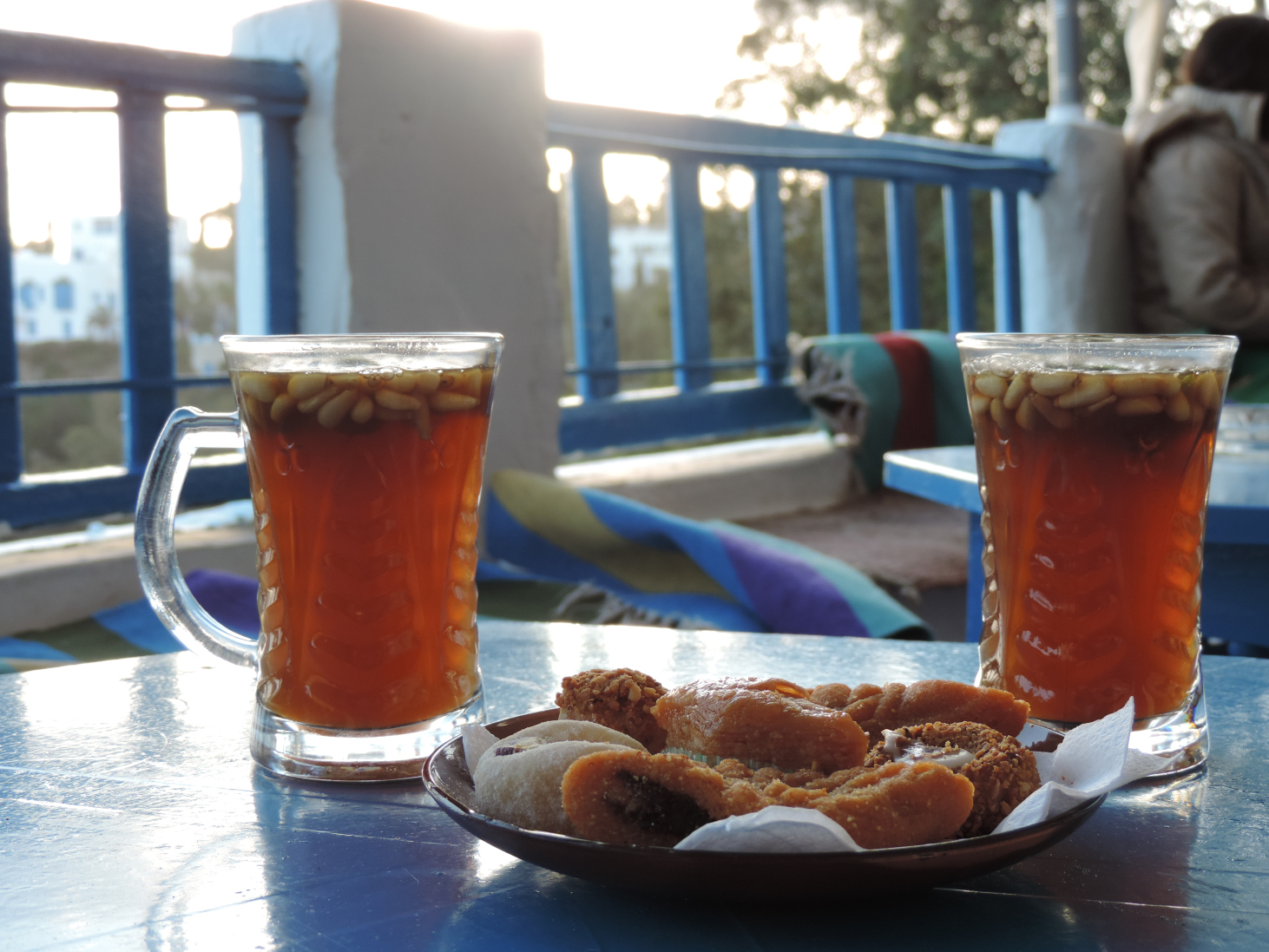 HALLI BACH TOUALLI! (Eat sweets so you'll come back!)
While the undulating Moroccan landscape is flowing out of the bus window and we move away from the white peaks of the High Atlas overlooking Marrakesh, my mind goes to the last time we took the bus. It was only a week ago but the wet and cold night when we said hello to Grottammare seems very distant. At night, after the last hugs, we crossed in silence and in the dark the Apennines in the early morning passing through Rome that was preparing for a day like another. For us it was not a day as another but rather the beginning of our new adventure and of our project: ALTERRATIVE.
The rumors and news of the attack at the Bardo museum are still echoing in our ears but at our arrival in Tunis our fear fades away. The sun illuminates the white city of Tunis, and Mohammed, the father of the family that will host us (chosen through the Air BnB website) welcomes us smiling at the airport. A few words and we travel by car to his home in the suburb of Menzah 9, not far from the El Manar University campus where the World Social Forum is hosted. After a rich meal with homemade cous cous cooked his wife Neima, Mohammed takes us to the discovery of the campus, where many years before he studied engineering.
In those years, the young engineer met a young seamstress, Neima and married her. The marriage was blessed by three children, now adults and with a life on their own: one in Dubai, with a 7 years old son, a daughter in Paris and another living in Tunis, recently married and with a baby on the way. Neima and Mohamed, in his sixties and both retired have a quiet life but full of friendships and social relationships. They are a serene couple, she is passionate about cooking, he is certainly a good eater but also a valuable support in the grocery shopping and home chores. Mohamed is in fact responsible for washing clothes at home, indeed he is the one who taught me how to use the washing machine and that very kindly hung our clothes to dry while we were off to attend the meetings of the Forum.
Every morning we have breakfast together with Neima and Mohamed, fortunately Daniela speaks French, and at least we can know them a bit better and explain them what we are doing and why we are in Tunis. With Neima and Mohamed the relationship grows immediately beyond the mere "hosting" and they are great in making us feel really welcome and "part of the family" also by showing us pictures of their grandson, the marriage of their son and daughter and telling us colorful stories of real life in Tunisia, a life centered on family, good food and the joy of being together, especially in the case of special events such as weddings and birthdays. Neima and Mohamed also own a house at the Hammamet, a beautiful corner of the Mediterranean where they invite us but the visit to Hammamet will have to be postponed until our next visit.
Every day, Mohamed takes us to the university campus where the Forum is held, always very polite and with a sweet and sincere smile, Neima instead constantly worries that we always have a hearty dinner to our liking and that we try all the major Tunisian dishes, plates rich of exotic flavors and Mediterranean herbs: tomato, pastry, stuffed with meat and vegetables, soups, chickpeas and bread enriched with cumin, coriander and olive 'oil, couscous, fresh vegetables, many types of cheese produced in Tunisia. Desserts cannot be missing based on a wide variety of dried fruits, honey, yogurt and accompanied by fresh orange or lemon juice.
Tunisian cuisine is a real surprise, little known abroad, but very tasty, healthy and varied. Tunisian cuisine mixes the ingredients and Mediterranean flavors with the Berber tradition, the tribe of the desert that, intermarrying with the Arabs, gave birth to this small but beautiful corner of North Africa. Tunisia, the cradle of the "Arab Spring" and so far the only country where the consequent change of regime has not led to a protracted civil war and destabilization. Here, the change of regime led to a national unity government, that is now leading a new phase for the "Switzerland of South Africa", as Mohammed calls his own country.
The socialist regime that dominated the post-colonial Tunisia has developed a legislative framework much equal between men and women, many women are in positions of prestige and responsibility in both the public and private sectors. Moreover, as Tunisia used to be calm and stable, it has hosted and continues to host a high number of citizens coming from Arab territories, now mainly Syrians and Libyans, in the '80s instead mostly palestinians, the Organization for the Liberation of Palestine led by Yasser Arafat even had its operational center here. Arafat's wife worked at the Sheraton Hotel and he had available 3-4 different houses in order to be able to sleep every night in a different place to avoid exposure to the risk of attacks. One of the houses rented by Arafat's OLP was the one in which Neima and Mohamed now live, at the time they had sublet the house to live in an area better connected to the center, to their children schools and to their jobs.
For many nights, Yasser Arafat has just slept in the room where Daniela and myself were hosted. Tunisia had developed a significantly more stable and peaceful society than most of other North African and Middle Eastern countries and maybe this is also one of the reason why it has recently been targeted by terrorist groups. Tunisia has strong links with Europe and historically the city of Tunis was one of the most importqant cities of the Mediterranean and therefore one of the hardest rivals for the Roman Empire for many centuries. At the time the city was called Carthage, according to the myth, it has been founded by the Phoenician queen Dido, who had been authorized to take as much land as it could hold the skin of an ox, cutting the skin in thin strips she achieved an extended perimeter where she established her own city.
Carthage is now a suburb of Tunis, where, symbolically, the President of the Republic lives in a princely villa overlooking the sea. The French influence is still strong because of the language (the second most spoken language after Arabic) but also from an economic standpoint, cars, many industries and most of retail chains are French. Ties with Italy are also very strong, even if more recent, many Tunisians work or have worked in Italy, sometimes even getting married in our country and many Italian entrepreneurs have relocated their businesses here, a neighboring and stable country, with a young population, qualified and speaking many languages, 2-3, sometimes 4.
Our passage in Tunisia was very short, but we are sure that we will return soon. Sunday morning, before you take us to the airport, Naima Mohamed and we have prepared a full breakfast, biscuits with honey and various desserts: "Halli bach toualli"says Neema, eat sugar so you will return.
We will do it. This time our visit in Tunisia has been very short and therefore we could "taste" this interesting country. Our visit and focused on participating to the World Social Forum, but despite this, there have been many episodes that contributed to develop a very positive impression of Tunisia: the many smiles, generosity and spontaneous friendship of Mohamed and Neima but also the young student who after sharing the taxi with us insisted on paying, the many smiling faces of the volunteers of the Forum, the feeling of being accepted, and almost pampered by a country that certainly is not going through one of its happiest moments but that is able to react, that is not frightened by foreigners and that is not overwhelmed by fear, but instead, wants to show that the humanity of the Tunisian people wins over hate. A country that wants to prove that hope and a modern, secular, democratic, open and solar lifestyle can not be defeated by the darkness of theocratic, absolutist, dark and barbaric utopia of a small extremist minority. Tunisian people responded with more rights, more solidarity, more democracy and participation to those who would like shut down forever the "arab spring". The success of the World Social Forum is a small, but concrete, manifestation of Tunisian people will continue on the path of the "arab spring".