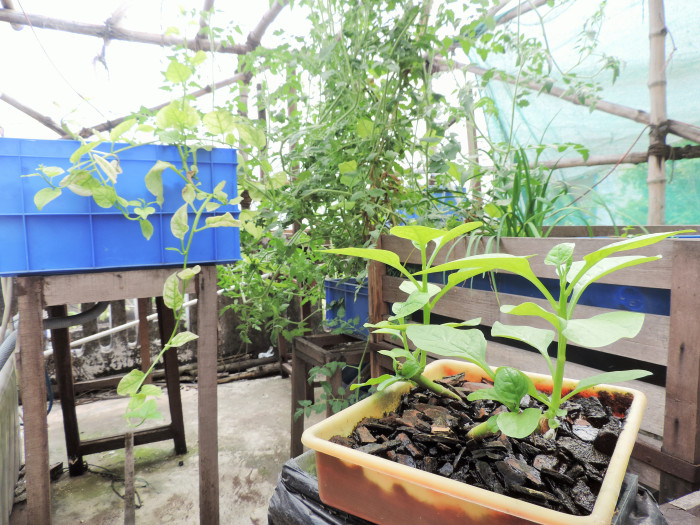 Anibar and the fish on the roof
Anibar looks at us with peaceful but wide awake eyes. He is about forty years old and the founder of UrbaGrow, a small business of organic urban agriculture. We went to meet him in his office, a regular building in an urban area in the south of Kolkata, our first Indian stop. Anibar relocated to Canada very young together with his wife. They had children and after ten years of snow, ice and polar winds they decided the tropical heat was still the best choice. They then returned to India, where, after a long search, he started UrbaGrow.
We have been in Kolkata for 10 days, too many for our liking: days are rather monotonous while waiting for Stefano's passport renewal, which, despite the efforts of the Consulate in Kolkata, still hasn't arrived due to the slow bureaucracy.
We spend our days resting, watching TV and venturing into the chaotic and crowded streets of the capital of West Bengal. Kolkata is known for its degrading, extreme and inhuman poverty, maximum expression of the sufferance made famous by the work of Mother Theresa. The Macedonian nun died some years ago but her work still carries on as much as the several problems of the city. The suffering of millions of Indians who try to survive in this real urban jungle of asphyxiating heat, the beggars reaching out for money, the stench rising from the garbage heaps, the scooters honking, the motorcycle and human rickshaws (one of the last places in the world where they are still common and widely used) remind us that the much vaunted India's economic growth did not affect the sad reality of the majority of the population, as always, excluded and marginalized.
In these first days in India we discover the tasty, rich and varied Indian cuisine that makes more bearable the boredom of the passport wait. It is from food that our friend Anibar Chanda takes inspiration to promote his company that offers a simple, healthy and inexpensive answer to the problem of quality food supply in the big cities. His analysis of the world food situation is lucid and clear. Whilst the food cost continues to rise, the cultivable land constantly diminishes as the population, speculation and pollution of land and water grow. More and more often we find on our tables products prepared with grains and vegetables grown using large amount of pesticides and chemical and toxic fertilizer. The seeds used in industrial agricultural are often genetically modified and expensive because patented by large agribusiness companies such as Cargill, Monsanto, Syngenta, Bayer (yes, the same that produces Aspirin), Dow Chemicals (responsible for killing over 16,000 people and causing permanent damage to other 600,000 after an incident occurred in 1984 in Bophal) and BASF.
The solution proposed by UrbaGrow is divided in three stages: visiting, learning and growing. Visiting the amazing roof terrace of Urbagrow is a unique experience for us. In the middle of polluted and chaotic Kolkata we find a green heart where Anibar, with passion and patience, grows every year tons of fish and vegetables such as tomatoes, lettuce, rocket, cucumbers and basil, according to the requirements of the season. All of it in a few square metres and without using any chemical products. How? Simple. The vegetable sprouts are planted in tanks full of stones that constantly receive water from a second tank filled up with fish. The chemical process generated by fish and bacteria produces all the nutrients that allow vegetables to germinate and bloom.
Obviously the process requires constant supervision and work that can be learnt in a few days, attending a short course held by Anibar himself and available for anybody who wishes to start growing healthy and tasty vegetables on their roof terrace. Furthermore Urbagrow sells everything needed to put in practice what has been learnt during the course: seeds, sprouts, aquaponics systems and obviously fish. The system requires about 2 Kg of fish per cubic meter of water which, in as little as a month, will grow up to 20kg, ready to be cooked with a side of home-grown vegetables.
The Aquaponics Agriculture carried on by UrbaGrow might raise some doubts being so distant from the ideals of organic farming, normally developed in unspoiled countryside. However, considering the current agro-industrial system that supplies most of our supermarkets, the alternative proposed by Anibar seems a great way of producing vegetables and fish that are not only healthy but also organic, low cost and have zero carbon emission.
Link agricoltura acquaponica: https://en.wikipedia.org/wiki/Aquaponics
Link UrbaGrow: http://www.urbagrow.com/
Link Bhopal: https://en.wikipedia.org/wiki/Bhopal_disaster