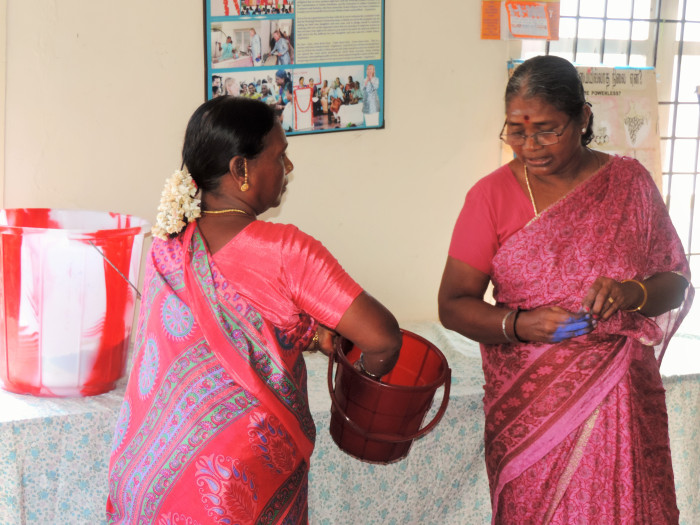 India: discovering the extraordinary strength of women's solidarity
It has been difficult to arrange a meeting, only a few days available, too many movements, but mostly because of water. Too much water. The plan to spend our last days in India in Chennai, the capital of Tamil Nadu state, seems at risk. The news on TV, the information we read on the internet and the emails we receive are daunting. Between the 15th and 16th November, 37cm of rain fell in just 24 hours, worsening the situation, already highly critical, due to the intense rains that have affected the city since the end of October. The level of the lake Chembarambakkam has been raised by about 7 meters, flooding the surrounding areas and increasing the regular regimen of Adyar river that destroyed thousands of homes built along its banks. More than 200 deaths and thousands of people displaced. The metropolis of Chennai, in south-eastern India, has a total metropolitan population of about 8,000,000; 4,000,000 considering the city centre only, of these 4 million, about 30% live in slums. The water has destroyed many of the simple shelters in which these people lived, the flooding took away the few clothes they owned and scattered the few things with which they survived. This flood has forced these "castaways of development" to walk barefoot for hours in search of shelter, food and water. A situation further complicated by a health crisis, with a rise in the incidence of diseases such as cholera, typhoid and malaria.
A real emergency situation that saw the women Working Women Forum (WWF, Forum of Women Workers) taking the lead in the rescue effort. These are the same women with whom we had made contact after reading about their impressive work. and. When we had already lost hope regarding a possible meeting, we surprisingly receive an email inviting us to visit the WWF office on November 19th.
We take the first bus from Puducherry (also known as Pondicherry) on the evening of 18th November. It's still raining, but lightly, over the rooftops of this strange town influenced by French culture and architecture. The water enters through the window, we squeeze next to each other on the seat because there is no glass and therefore we cannot close the window. Running along the sunset line we ride on the road to Chennai. Gradually thousands of lights turn on in the dark night, they are reflected on the enormous pool of stagnant water that we see around us. The bus is very lively with coloured lights and the deafening volume of the last Kollywood [1] success, the other passengers seem to appreciate the movie as they are laughing very loudly. After 5 hours we arrive at the flooded Chennai station, we wear our raincoats, we hop on an autorickshaw that takes us to the hostel;  squeezed between our backpacks we observe the slow, noisy and chaotic city traffic.
The next morning, a shy sun brings respite from the heavy rains of the previous days. We arrive punctually at the WWF office for the appointment, unaware of what was going to happen. We could have never imagined such a warm welcome: attentive, kind, caring, but completely spontaneous and natural. With warmth and kindness, smiling Nandini hands us two red roses as soon as we set foot into WWF office. Nandini, a woman in her thirties is the assistant director of the organization, she takes us through various rooms, showing us the women's bank and union's offices, the classrooms for training and the various departments that form WWF. We sit together with a group of women to follow a lesson on soap making: the training is not just a list of items to mix, but it also includes several insights on domestic economy, child care, as well as on superstitious beliefs and behaviours that often undermine women's self esteem and condition. Parvathy, the trainer, facilitates the discussion with energy and enthusiasm. We have the opportunity to exchange a few words with the women attending the training, they tell us about their work, their children, their small daily struggles and the bigger and more dramatic challenges that they faced during their difficult life. Most of these women live in Chennai slums and belongs to the dalit caste [2]. Some are seamstresses, others produce incense sticks or bidis (Indian cigarettes), others are rag pickers or street vendors. They explain how over the years they have managed to find dignity in their work, humble jobs that nonetheless should be respected, above all by themselves but also by those who benefit from these services. WWF is providing training, micro-credit, but also encouraging women's self-confidence, self-respect and dignity, all factors that have allowed the women we met to make an important first step in their journey of hope. In essence, it means that a group of seamstresses were able to open a small shop where they sell handmade clothes, and that street vendors can better understand market demand and increase the sales of their products. We sense a lot of determination in their words and notice a few tears in their eyes.
With some of the women, beneficiaries of the micro-credit program, we go to the WWF bank tellers because today is the day that groups receive their loan. We celebrate by drinking a very sugary cup of chai (tea). We feel at home amongst them. Our hearts are confused by so much energy, warmth and hospitality.
We continue our tour because waiting in her office is Jaya Arunachalam, president and founder of the WWF. Behind her gentle eyes there is a long story of fighting with and for women, side by side with those living on the street, alone, abandoned and doing the most humble jobs. A woman  ahead of the  times, who broke convention which she  considered unjust, a woman who married a man belonging to a lower caste. Jaya was a young member of the Indian National Congress party, with a potentially brilliant political career in front of her, when, unexpectedly, circumstances led her to think about the role of the party in the daily lives of Tamil Nadu people. In 1977, during a major emergency due to a heavy flood, very similar to that of November 2015, Jaya Arunachalam participated in a rescue mission to distribute essential items to people affected by the heavy floods: people, mostly women, that seemed to wait for the recurrent natural disasters to have a good reason to ask for help. Marginalized women, with no social protection, unable to enter the system established by the Indian society of that period. She decides to leave politics and to commit all her efforts to the difficult and obstinate way of women's emancipation, challenging the ancient Indian culture and Hindu laws, according to which a woman is not independent, but must always be protected by their father, husband or by her brother. Moreover, the spread of practices such as dowry, female infanticide or widows' abandonment consolidate women's subordination to men, creating second-class society.
Inspired by the microcredit model of Muhammad Yunus' Grameen Bank, Jaya was one of the first women to establish an organization that combined economic development with  nutrition, health, labour law and human rights programs. According to Jaya Arunachalam, lending, by itself, would not have significantly changed women's lives without a training on basic financial concepts (loan, investment, interest), without the recognition and protection of all those jobs until then considered " informal " and especially without a strong mobilization against child labour, prostitution, domestic violence, female feticide and infanticide.
An ambitious project that needed initial capital. Jaya Arunachalam sent the proposal to several banks to create a solidarity fund to lend cash to poor women. The idea was rejected because banks were not confident that women could pay back the loans. This first obstacle did not stop Jaya, who on the contrary, together with WWF, inaugurated the Working Women's Co-operative Society that in 1981 was recorded as Indian Co-operative Network for Women. The result is an informal banking system capable of responding to the needs of poor women employed in the informal sector, which promotes their social and financial independence through the development of micro/small business as well as providing low interest loans, decent employment and a wide range of economic services.
An extraordinary revolution, that kick started the regulatory process of the immense indian informal sector. Through the National Union of Working Women (NUWW), jobs as the production of bidis, incense sticks or embroidery are now formally recognized and therefore their salaries are regulated: for example, if before the formalization a woman received two rupees (0, 02 euro cents) per 1,000 cigarettes, after she received 24 (30 euro cents). A working day in the fields used to be paid 4 rupees (0.05 euro cents), but after formalization it was paid 40 (0.53 euro cents). In addition, the NUWW developed a social security system to protect the unorganized workforce of about 600,000 women and conceived of micro insurance policies in favour of women workers in the event of illness, injury or death.
An entirely female movement that brings women, belonging to different castes, religions, ethnicities, promoting cohesion among the poorest belonging to various groups, toward a social platform for a common cause. An initial group of 800 women has grown today into a network of 5 million women. A strong network, made up of women who are able to plan how many children to have, to earn and manage money for their family but also to mobilize in marches and public meetings to request and obtain the recognition of political rights. The program initiated by WWF fostered an immediate economic empowerment that over time has also translated into greater political involvement: many of the WWF women are now members of the Panchayat [3].
Many achievements, many battles won, many difficulties overcome. The work of the WWF and the personality of Jaya Arunachalam were also recognized at national and international levels. Many presidents, prime ministers, scholars have visited the WWF and saw its work. From China to Italy, Jaya Arunachalam has become an ambassador of the Indian women's situation participating in important conferences of major international organizations. But when we ask what is her most important memory, she does not speak of her travels or her meeting with Hillary Clinton, one of her most illustrious female visitors. She remembers instead the solidarity and participation of the women of her organization at her husband's death, the first to arrive and to be present. A moment of profound communion. That's what she tells us. WWF women, always, first and foremost. Perhaps it is thanks to this wonderful sensitivity that she has managed to set up such a strong and thriving network, all of this would not have been possible without the hard work of all her collaborators. Maybe it's just because of her extraordinary sensitivity that we were welcomed like heads of state, almost like Hillary and Bill Clinton. No difference, only a warm welcome and sharing our ideas. We leave the WWF after a tasty lunch, loaded with books, enthusiasm and energy.
WWF commitment continues. The growing urbanization, population pressure, climate change, natural disasters, a patriarchal culture contribute in maintaining a heavy workload for Jaya and her team. Just as in these days of incessant rain, everything may look like when it all began: flood and assistance, but it is not so. When WWF operators visit the areas, affected by the flooding, there are not groups of women awaiting humanitarian aid, but women who have already thought of a plan on how to solve yet another challenge, ready to begin again, as always, with their own strength.
[1] Film Industry of Tamil Nadu, located in Kodambakkam, as opposed to Bollywood.
[2] The Dalits, are considered by the upper castes to be outside of the Varna, which is the system that offers a division of the Indian people into four main castes. For this reason, the Dalits are doomed to menial jobs, such as cleaning the streets, slaughtering, cleaning latrines and sewers. These activities were considered pollutants for the individual and this pollution is considered infectious. Hence the adjective untouchable. In the past, it was forbidden for dalits full participation in Indian social life. They were physically separated from the surrounding community and the other castes avoided any contact with them. In 1950, the constitution officially outlawed the caste system, followed by a series of reforms and initiatives aimed at levelling the inter-caste disparities, promoting education, employment and health. There has been a significant improvement in dalits' living conditions, but cultural heritage, traditions and superstitions are difficult to eradicate, especially in the most disadvantaged areas.
[3] Literally "Committee of the fives" , in the indian administrative system is the local self-government unit