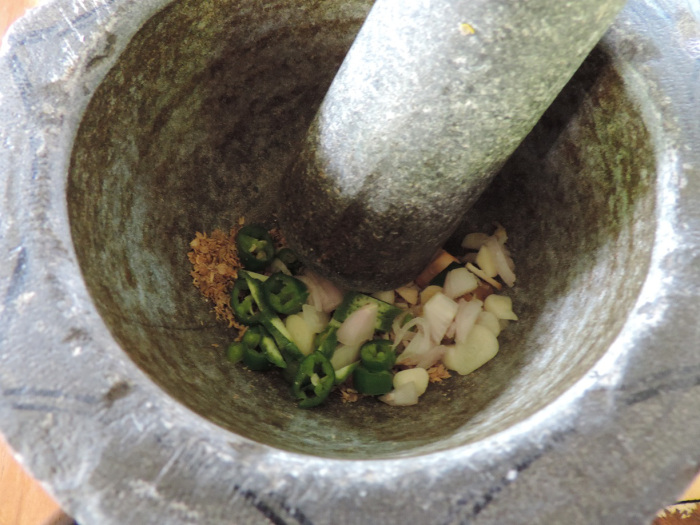 Food sovereignty in Thailand: light and shadow
ALTERRATIVE met Spanish, Mexican, and Rapa Nui farmers fighting for their land, Ecuadorians and Bolivians defending their water, Uruguayan and Indian activists preserving ancient local varieties of maize, millet and rise. What do all these people have in common? They are defending their food sovereignty, the ability of those who produce, distribute and consume food of controlling the mechanism and policies of production, distribution and consumption of food. Food sovereignty takes position against the ago-industrial production model dominated by large agribusiness multinationals. This system, too often supported by national governments and international institutions, fails to meet the requirements of healthy and quality food for the entire world's population and, at the same time, is significantly contributing to the degradation of our planet and to an acceleration of climate change. Access to fertile land, quality seeds and pure water are three key factors to ensure local production of tasty, varied, nutritious and, above all, healthy food.
Considering all this, during our trip we couldn't miss the opportunity of investigating the food system in its entirety, from processing to consumption, and to do that we chose Thailand, probably one of the countries where the local food has most surprised and delighted us for its variety of dishes and its exotic flavours and scents.
We then decided to attend a well recommended mini-cooking course in Chiang Mai, northern Thailand, a country that has remained in our heart not only for the food but especially for the spontaneous hospitality of its people. The cooking class with Sammy was our tasty last stop in Thailand, a moment that feels more like a "See you later" than a Goodbye. Our day at Sammy's Organic Thai Cooking School starts in the back of a van that picks us up at the simple but well organized Diva Guest house, run by smiley and kind Pina. We cross the not particularly pretty and busy Chiang Mai heading to the suburbs to finally stop in the yard of a fruit and vegetable market where, without rush, we start exploring this colorful world of vegetables and grains. Some we know, most are completely new and different from what we normally use: dozens of different varieties of rice, spicy green, yellow and red peppers, tomatoes, tiny eggplants, huge cucumbers, many varieties of cabbage, lettuce and onions, piles of white, pink and brownish eggs, spiny fruits or looking like potatoes, the fleshy dragon fruits. All in a bustling but not overwhelming market where housewives and pensioners do their shopping and haggling in a calm and serene atmosphere. We curiously wander around the stalls taking pictures until Sammy calls our attention to talk to us about the rice and to show us how coconut is being separated into milk and pulp, both very used in Thai cuisine.
Once back on the truck, we start driving through the lush countryside of the surroundings of Chang Mai, where rice is growing in abundance thanks to the mid-September sun. The cottage that houses Sammy's Cooking School has a large central space for cooking but also enough space to rest and relax in the quiet of the countryside, away from the motorbikes and constant honking of Chiang Mai: a tasty and peaceful oasis.
It's finally time to start cooking and, although a little clumsy, we start following the instructions of Sammy and his wife. The couple worked as chefs for years in the famous Southern Thailand beach resorts and are now committed to promoting Thai food through cooking classes for travelers who want to learn and prepare their own food. Within a couple of hours of chopping, mashing, frying and stirring, Daniela will cook a green curry, shrimp soup, basil fried chicken and spring rolls while Stefano will prepare a red curry, Thai vegetable soup, Pad Thai (sauteed noodles with vegetables, chopped peanuts and bean sprouts) and a creative papaya salad.
Finally, for dessert, sticky rice with fresh mango and banana cooked in coconut mil, two delicious plates that will hopefully compensate the spiciness of the other dishes. After the hardest but also more interesting part, it is time to taste our creations and, excited and hungry, we sit at the table each to start tasting our food and the one prepared by the others, exchanging opinions and impressions.
After emptying plates and bowls, Sammy suggests a nap on the hammocks or in one of the several shady corners of the house. Despite the sun is strong, the temperature is still bearable so we decide to go for a walk and explore the rice fields around Sammy's house, pondering on the abundance, variety and taste of the Thai cuisine which will be greatly missed once we leave to country and carry on to Cambodia.
Thailand in 1991 had an under-nutrition rate of 35%, reduced to 7% in 2015. Despite the numerous political crises, Thailand has managed in the past 25 years to ensure its population more and more food access and, at the same time, to export products like rice, rubber, pineapple, chicken and shrimps: it is estimated that the country could feed a number of people equal to 4 times its own population (68 million).
Despite this and the considerable improvement of the under-nutrition rate, some shadows still remain on the food production system of this country: how is it possible that 7% of its population still has not access to food considering the country could potentially feed nearly 280 million people? Also, what is the quality and environmental impact of the produced and imported food considering in 2012 analysis have revealed the presence of pesticides 100 times higher than the level allowed by the European Union and the use of 155 different type of pesticides considered dangerous to our health? Unlike other countries we have travelled and worked in, food is not lacking and yet there are still 5 million Thais who do not eat enough. Unlike other countries, conditions are favourable for agriculture: land, water, seeds and infrastructure are not lacking and yet substances that are harmful to human beings and environment are largely used. What is the reason? With this question in our mind we walk back to the house where Sammy is waiting for us and the last greetings before travelling back to Chiang Mai. Thailand is a wonderful country, green, welcoming and friendly. However, even here, the shadows of a production system harmful to humans and the environment cannot be ignored as we hope to build a better future for all, respecting mother earth that, with its generosity, continues feeding us despite our choices that too often endanger its balance and damage its fertility.
Alcuni link per approfondire:
https://it.wikipedia.org/wiki/Sovranit%C3%A0_alimentare
http://www.altragricoltura.net/index.php/48-contenuti/contenuti-2/15-cosa-e-la-sovranita-alimentare
https://www.grain.org/article/entries/4357-food-and-climate-change-the-forgotten-link
https://www.youtube.com/watch?v=vrpJxXk7Rwk
https://www.tripadvisor.it/Attraction_Review-g293917-d2507163-Reviews-Sammy_s_Organic_Thai_Cooking_School-Chiang_Mai.html