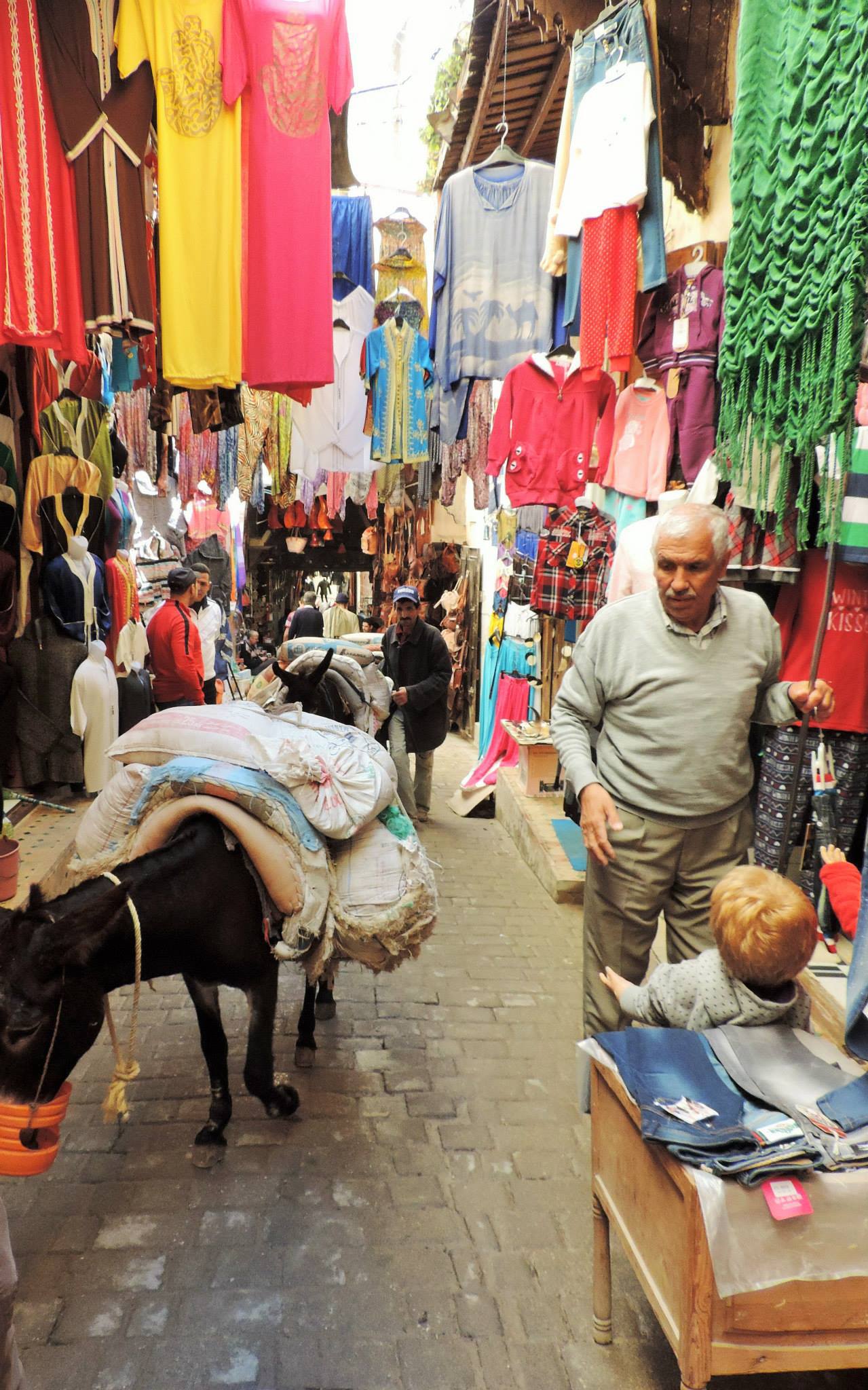 Marrakech express and beyond
A dish of vegetable tajine fries in front of me, the smell of peppers enters the nose and prepares body and soul to a quiet dinner in a silky Moroccan night. The tagine dish keeps the vegetables hot, earthenware, hot, served with a cover rthat reminds me of the Berbers' hat, the desert people, a simple food but healthy and nutritious. Stars dot the magic sky behind the tower of the mosque, the muezzin has already called to prayer with his loud chant. The moon lights up the snow that covers the peaks of the Atlas mountains, the air is balmy, rich of spices and mint tea flavor.
The earthenware pot is brown, rough as the earth, as the mountains and the skin of the Berbers who live there. Brown, like the walls that still protect the medina, the old city of Marrakesh, the walls, rough and brown stand out against a sky so clear and blue that it seems unreal. The April sky above Marrakech is clear, temperatures are already high, over 35 C degrees in the daytime, but lucky enough the weather is quite dry so it does not make you sweat.
Not sweating is very lucky as Stefano's backpack, with most of his clother was sent to Canada and it is two days that we do not know anything about it, not a great start for our round-the-world trip, this fact annoys us but it does not discourage us, these things happen when travelling and we are quite confident the backpack will arrive soon. We will recover it after three days by going to the airport one evening, on an old Mercedes taxi, beige and upholstered with a waxed fabric and printed with tigers. In the orange light of sunset we return to the Jemaa-el-Fna that we had already visited during the day and a variegated collection of: snake charmers, smiling guys selling juices, girls returning from school, little monkeys on a leash to take a picture with the tourists with an incongruous curiosity towards animals but an unexplicable tolerance toward their mistreatment. As the evening comes, Jemma-el-Fna square lits up with thousands of lights, faces and smiles, it begins a new life even more sparkling and shimmering. Thousands of Moroccans flock into the square to hear storytellers narrate legends, ancient and modern, to watch new and old magician performances, listening to street musicians but also to enjoy a quick meal in one of the dozens of temporary, but very organized, restaurants occupying the central part of the square. During the dinner it can happen to be approached by clever henna tattoos painters that within seconds they paint your hands with exotic decorations. Each dinner can not be defined as such without a taste of Moroccan pastry, sold by dozens of mobile carts moving around the chaotic and lively square.
From Jemaa-el-Fna, after dinner, we cross the narrow streets of the medina, at night it is rather dark and lifeless but by day it is swarming with tourists in shorts, smiling sellers, suspect loafers and sweaty workers pushing carts through the narrow streets of Marrakesh. Both in the Marrakesh medina and in Fez one getting lost is a "must-do", and like it or not, sooner or later it happens. Walking through the narrow streets in the heart of this ancient and imperial city is a very strong sensory experience. Surrounded by children's screams and the greetings of the vendors roaring motorcycles and motorized carts loudly roll by, a muezzin calls the prayers to the mosque while a donkey is braying because of the excessive load. The old men sitting at the tiny bar sipping mint tea comment on the latest events of the day. At each step a wave of different smells sneaks stinging in the nose, cumin on display, the dung of donkeys on the ground, the sweet aroma of Argan oil, cold stench of entrails exposed outside a butcher's shop alongside a goat head, the scent of the resin and of the wood from a carpenter's shop mixes with the pungent smell of iron that comes from that of a nearby locksmith, the dust accumulated in the carpets shops makes you sneeze but not as much as the smell of hides and leather that comes from dozens of colourful leather shops. Tanneries with white-gray stone tubs stinking of pigeon droppings and goat urine, but also big stone tanks lively and full of bright yellow, red, brown colors, an ancient process, still performed by hand by men of yesteryear who live most part of their days scraping cows, goats and camels hides, to process and color them. We discover the world of skin transformation and processing of thanks to a short and bossy lady who offers to guide us (for free) to the tannery more passing amid huge groups of tall and pale perplexed Nordic tourists, the short but strong lady avoids them leading myself and Daniela in the narrow alleys of Fez shouting: "Sorry! … hello! ?? … Excuse me!".
In the middle of so much confusion we spot small windows of fried cakes, made with tasty and always present nuts and soaked in a lot of sugar syrup, to be eaten preferably with a mint tea or a fresh lemon, orange, tangerine or grapefruit juice, even better if ginger or almond flavored.
We lost count of how many artists, dancers and street vendors we met in the street selling everything and although often we resist, sooner or later it is impossible not to succumb to the temptation of trying freshly fried chips, salted or sweet peanuts or popcorn but also to street-food hearty cooked and sold on the spot such as: chick-pea soup and sandwiches containing anything edible they can contain. In the medina anything is sold from dentures exposed on display to shoes, carpets, shawls, curtains, footrest, extremely colorful scarves of all colors: yellow, red, green, purple and blue.
 Sometimes the smells, the flavors, the colors and sounds of the medina can be overwhelming and push you to seek shelter in a park, quite surprisingly for such a dry country both Fez Marrakesh which have beautiful parks: clean, well kept, full of bubbling and elaborate fountains, green lush gardens, shady tall trees, local and imported from other continents, many Moroccans go there for a chat in the shade of a palm tree. Sweaty and tired after hours walking around Marrakesh we sat a few meters from a cluster of 7-8 Moroccan girls, all strictly veiled, intent on chatting thickly, they unsurprisingly filled their conversations (in Arabic of course) with words such as Facebook , WhatsApp and Twitter …
Technology and western modernity, the so-called development, are so much more present than we expected in the cities and in moroccan people's life: paved and well-maintained roads, new air-con buses, well-organized stations, and huge gleaming airports, trendy bars, chic expensive restaurants… in Tangier even discos and night clubs. Morocco is full of non-places, stations, airports, shopping centers, bars exactly the same as other infrastructures around the world. Non-places where Morocco becomes shallow and tasteless, it disappears, it ceases to exist, or perhaps, the question arises, places where we are experiencing the future Morocco? However, this brief visit to Morocco has allowed us to discover an extraordinary country, very charming but also very far from the stereotypes, preconceived ideas that we had. Perhaps given the previous experience in Tunisia we expected to be welcomed in a more open and warm way by smiling locals. Maybe the fact that he visited very touristy areas is one of the causes of this slight bittersweet feeling that Morocco gave us, but this fact gives us also one more reason to come back to discover the desert, the Atlantic beaches and moroccan rural villages that this time we could not see. Excited, we left Tangier by ferry to cross the Pillars of Hercules, ancient limit of the known world, to convince us that we have to go back to Morocco a group of friendly dolphins and majestic whales that have appeared on the water surface greeting us from the deep and cold waters of the Strait of Gibraltar.